23 Jun

Diary of Thomas Vernon, 1776
June 23, 2016, 12:16 am
At the onset of the American Revolution, the colony of Rhode Island had many loyalists to the crown, particularly in Newport since many officers of the British government lived here. The frustration and tension between loyalists and patriots was palpable, even in daily life. As the indignation of the patriots grew, the friction between groups continued to increase until it broke out in a riot in 1765, and in 1772 resulted in the destruction of the Gaspee, including the shooting of Lieutenant Dudingston, her commander.
In 1776, the Rhode Island Assembly passed legislation known as the Test Act, which empowered any member of the Assembly who suspected his neighbor of being loyal to the English to "test" him. The test was comprised of a short oath, designed for the swearer to pledge his allegiance to the cause of the united colonies without question. Considering that there were 82 members on the Assembly, there were 82 petty courts that could call anyone's allegiance into question at whim. If the summoned person did not subscribe to the test, the assemblyman was authorized to ask why. Should the answer not please, warrants could be issued to search their homes for arms or munitions of war, and if they were found the individual was exiled; although the Test Act itself does not mention banishment or punishment of any kind. In July of 1776, fifteen men were banished from Newport. In October, the Assembly passed an act giving permission to all banished persons to return to their homes, upon the payment by them of the state's expenses.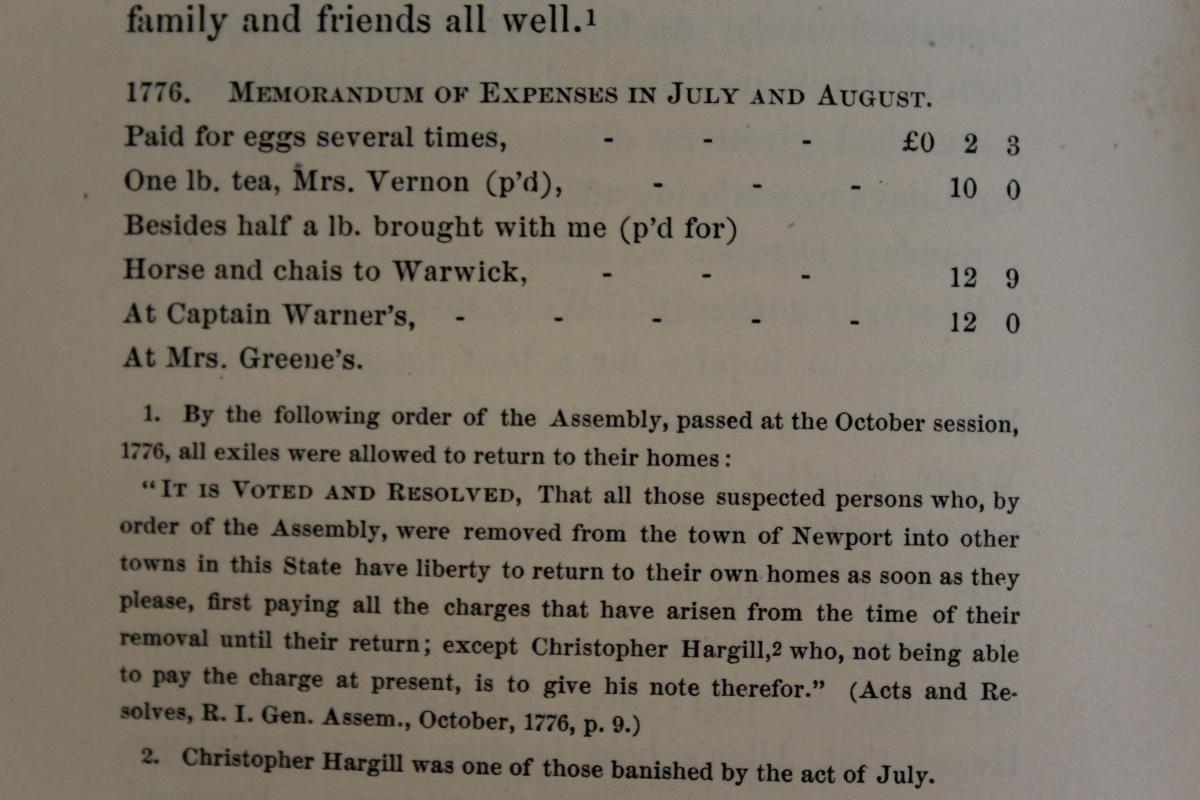 State expenses owed by Thomas Vernon, October 1776.
The Diary of Thomas Vernon, part of the Alan T. Schumacher Collection and gift of Diana Macarthur-Stanham chronicles four months of exile from Newport, spent wandering the northern towns of the state. This particular group of men, including our diarist Thomas Vernon, was sent to live out their banishment in Glocester, Rhode Island. While some may consider the diary mundane, it documents the average lifestyle of people living and working in the interior of the state during the 18th century. Rhode Island culinary and cultural customs are recorded in these pages-making this an interesting document for Revolutionary scholarsof our state. Look at the date on the picture below!